How Facebook and Apps are Stealing, Accessing Your Private Data
---
Privacy of your personal data on various social media platform such as Facebook, Twitter, Pinterest etc is very important. Facebook privacy has taken a recent hit by the expose of one UK company Cambridge Analytica, which is a British political consulting agency doing data mining, data brokerage, electoral surveys, and data analysis for electoral campaigns. They were the brain behind the election campaign for Donal Trump during the US election and also ran campaigns between 2002 and 2013 elections in India for various political parties along with doing behavioral research and caste census.
According to the whistleblower, Christopher Wylie, Facebook is looking at a data breach for over 50 million users. The data breach story has come as a blessing in disguise for users as this has exposed the extent to which data mining and data brokerage agencies are going out to snoop on users to gather as much data about them as possible. These data are used to influence voters during the election campaigns. These data mining agencies gather data by way of developing various Facebook apps, and mobile apps which users download to play and end up exposing their personal information. Similarly, on the web, when you use Facebook login to register or login to a website, you authorize these Facebook connected apps to access your information and the extent of access depends on what all permissions you grant them. As a user, you must protect Facebook connected app privacy by going to the Facebook account and then privacy settings.
To help users on how they can protect their Facebook account data as well as from the Facebook connected apps, Rakesh Ojha, Chief Amazement Officer at WebNet Creatives, was invited by a news portal – IndiaSpeaksDaily.com recently. You can watch the video (Hindi/English mix dialect) below or on YouTube.


By changing the data protection and privacy settings on Facebook, one can minimize the risk of the data leak, however, not using untrusted apps, no matter how promising they look, is highly recommended.

To check how many Facebook connected apps are being used, go to the account settings page from the top right drop-down and clicking on Apps link from the left navigation. You can see the Apps link on the left image.

Clicking the Apps link will display a page, in the below image, where you can see Apps connected using FB under Logged in with Facebook section.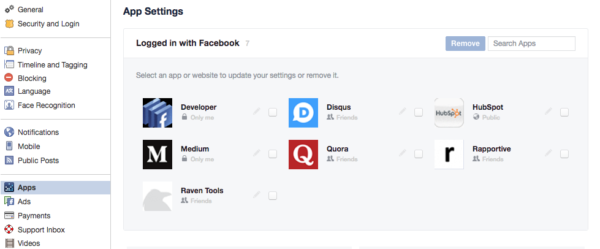 How Facebook and Apps are Stealing, Accessing Your Private Data
was last modified:
April 3rd, 2018
by