Mobile Search Optimisation (MSO) For Better Mobile Search Rankings
---
You were really happy patting your SEO teams' back on bringing top rankings for your company's website. However the happiness seemed short-lived when you realised that majority of traffic to the website was coming from mobile browsers and your website wasn't ranking as good as on desktop results. First question that crosses your mind is – "How could this be? And second question is how to show same encouraging results on searches being performed on mobile devices?". You sit down with your SEO manager and start the exploration journey!
Mobile Search History
The concept of mobile search and mobile SEO were discussed during Searchology 2009 hosted by Google and one can read a detailed transcript here. It highlighted how Google was showing more and more mobile friendly websites in the mobile searches ahead of desktop version sites. Google was definitely taking mobile search quality seriously and wanted webmasters to do the same so they can make their websites mobile friendly not only in terms of making the site render for smaller screens but also to provide better user experience.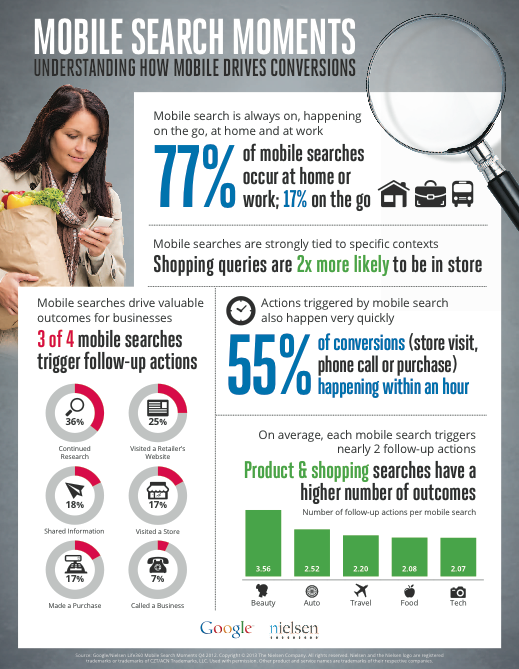 Well with growing use of mobile devices for regular work including searches, it has become all the more important that your website ranks well in mobile queries to sustain lead generation efforts. According to Google & Nelson– 77% of mobile searches take place at home or at work.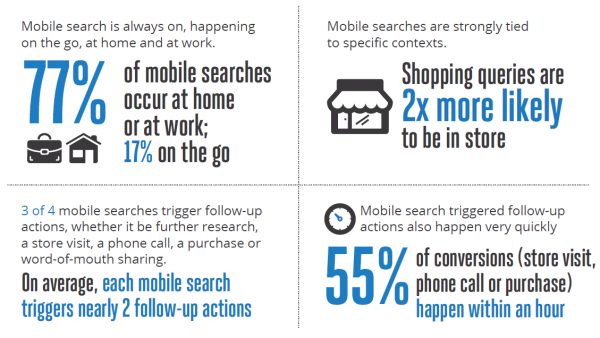 To back the claim of mobile SEO becoming important for businesses, below is a chart showing growing Mobile's share of organic search over the last two years in US alone.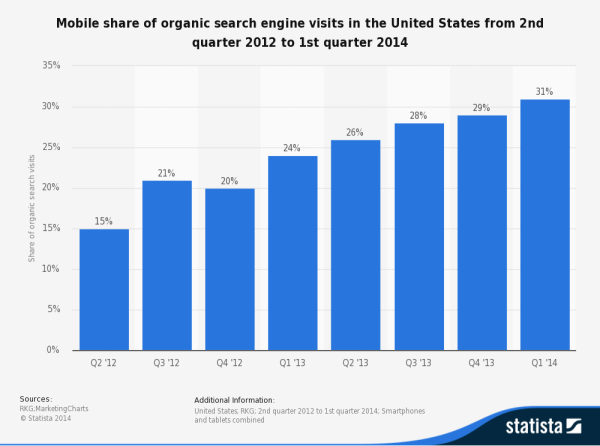 Here is the latest forecast for growing mobile query usage and mobile SEO. Mobile optimised website shall be clearly the winner in the coming days.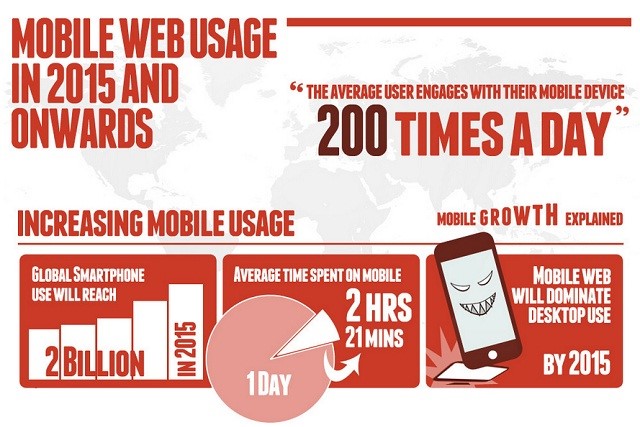 As buyers and consumers are increasingly doing searches on their mobile looking for answers to buy their next smart phones, get car picked up for wash, looking for discounts in neighbourhood or even looking for plumber services, all businesses need to have a mobile search optimisation (MSO) strategy as part of overall online business promotion. Webmasters are now aware that mobile search ranking algorithms takes into account certain additional ranking signals to rank the most optimised website for mobile platforms.
To make mobile search optimisation even more relevant and necessary for user friendly experience, – Google updated it's search algorithm back in April 21 and called it Mobilegeddon. It was focused towards mobile ranking to include signals such as degree of mobile-friendliness, site redirection based on mobile detection and mobile app indexing.
@Skitzzo @rustybrick @glenngabe We're expanding on previous ranking changes such as to address faulty redirects: http://t.co/tfsAasQYyH

— Google Webmasters (@googlewmc) February 26, 2015
To rank websites in mobile queries, it needs to follow certain mobile design & development guidelines besides normal SEO principles used for desktop websites. And don't forget to include a Mobile Sitemap
In all this an important question arises – "Wasn't normal SEO friendly website enough that we are required to optimise the same website for different platform viewing and what possibly could be the reason that same website may not rank high in both the search results?".
One needs to think in terms of the mobile user search behaviour and what should influence the site's mobile friendliness and it's rankings. Users on the mobile are less likely to follow too many links on the site pages. Besides the text on the page shouldn't be too much and should be having bigger fonts.
Page by Page Labelling
Before April 21 Mobilegeddon updates, it was confirmed by Google's Gary Illyes, that the websites shall be crawled and subsequently labeled as mobile friendly or otherwise in real-time to get the benefits. Most importantly the labelling of the pages shall be done page by page basis. So, if out of 10 pages in your website only 5 are mobile friendly, they will only be labeled mobile friendly and benefited. In a way it's blessing in disguise where webmasters can make certain pages mobile friendly that want to rank and not worry about optimising rest of the site.
Initially after the search algorithm updates, there will little impact on the websites and their rankings however after a while the impact began to show. It was a big deal indeed as advertised.
According to a report (PDF) from Adobe, traffic to websites that were labelled non-mobile-friendly fell 12% in two months after Mobilegeddon updates in April 21, in comparison to websites that were labelled mobile-friendly.

Our team is currently doing mobile query tests on different mobile devices to check the quality of results and are what percentage of the websites are mobile friendly over a period of next 3 week. Did the percentage was affected by the type of services being queried? Initial observation suggests that % of mobile friendly websites in the search results to an extent depends on the kind of services/products being searched for. More of the findings we shall publish on our blog once our tests are over. Keep visiting regularly and we look forward to comments and your observations you may have done.
Mobile Search Optimisation (MSO) For Better Mobile Search Rankings
was last modified:
April 1st, 2016
by